Welcome to the Rotary Satellite Club of McCormick
A club sponsored and part of E-Club of the Carolinas
If you live in McCormick County, South Carolina, and like to visit or join us.
We meet every 2nd and 4th Tue at 5:30 pm EST
Address: Michelle's Pizza Restaurant
131 W Augusta St, McCormick, SC 29835
Email: Mccormickrotary2019@gmail.com
Follow us on FB: https://www.facebook.com/McCormickcountyrotary
YouTube Channel: Rotary Reads the Classics
https://www.youtube.com/channel/UC_JAuLzKCITZk8q8_P6Vvbw
Club Address: PO Box 1845. McCormick SC 29835
--------------------------------------------------------------------------------------------------------------------------
October 2021
McCormick Satellite Club hosts its First Discovery Rotary meeting presented by
our E-Club President Lenna Young
Linda and Tom Williford recognized for their Paul Harris achievement.
June 2021 Fundraiser - Ongoing
Proceeds will benefit local community needs. This fundraising will be available at the District 7750 All Club Conference, look for the E-club of the Carolinas table. If you like to order a bandana for your pet, dogs or cats, please contact us via FB.
May 2021 - 'Trunks of Gold' Fundraiser Event
The Town of McCormick hosted a 'Trunks of Gold' sales event on May 8th. Parking spaces were occupied by local residents who opened their trunks for a community yard sale. The Rotary Satellite Club of McCormick members Anne Barron, Sandy Gresham, Tom Williford, Karen Hoyt and Linda Williford participated, proceeds would support local community projects.
It was a beautiful day for fellowship and promote Rotary.
February 2021 - Rotary Reads the Classics
Channel link
https://www.youtube.com/channel/UC_JAuLzKCITZk8q8_P6Vvbw
January 2021 - Service Project
The Satellite club of McCormick is taking donations for the Food Pantry. An ongoing project to help the community in need.
.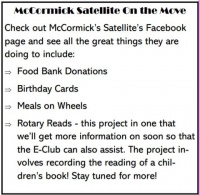 November 2020 "Veterans' Day" Service Project
The E-Club of the Carolinas along with the Satellite of McCormick sent over 200 Thank you Cards to a Veteran Center in Anderson, SC
October 2020 - All E-Club hybrid meeting (in person/online via zoom)
Members of the E-Club and McCormick met at Lakeview - Hickory Knob State Park for a day of fellowship and training. We thank DG Beth Padget for partecipating and presenting the Platinum Rotary International Presidential Citation.
Feb 2020 Rotary International's Birthday
The E-Club met in person Feb. 8th for training, fellowship and to Celebrate Rotary International's Birthday, the actually birthday is on Feb.23rd !
Great meeting at Hickory Knob State Park.