Welcome to the Rotary Satellite Club of McCormick
A club sponsored and part of E-Club of the Carolinas
If you live in McCormick County, South Carolina, and like to visit or join us.
We meet every 2nd and 4th Tue at 5:30 pm EST
Location may change, please email the club for updated info.
Email: Mccormickrotary2019@gmail.com
Follow us on FB: https://www.facebook.com/McCormickcountyrotary
YouTube Channel: Rotary Reads the Classics
https://www.youtube.com/channel/UC_JAuLzKCITZk8q8_P6Vvbw
Club Address: PO Box 1845. McCormick SC 29835
--------------------------------------------------------------------------------------------------------------------------
Rotary Club of McCormick Satellite 2021-22 Year in Review
Tuesday, June 21, 2022

The E-Club is especially proud of our McCormick Satellite Club. They are growing in members, and they are making an impact on McCormick. From blood drives to community service, this club of Rotarians does a lot of good while having a lot of fun! On the 21st Linda Williford and Anne Barron provided an update and shared their story of growing Rotary through service.

Some of the MANY projects the club has led or supported in the past year include:
Donations to Little Free Libraries
Trick or Treat at the McCormick Fire Department
Thank you cards for veterans in Anderson
Collected five huge boxes of toys for Toys For Tots in collaboration with Michelle's Pizza
Developed a Rotary Reads the Classics program with audio books posted to YouTube
Donations to a local Food Pantry
Created handmade Valentine Cards to accompany Meals on Wheels deliveries
Redecorated a wall at the Talmadge Center of Fitness and Wellness in McCormick
Sponsored a Red Cross Blood Drive
Sponsored a bird feeder activity at the McCormick Spring Fling
Raised $312 for CART (Coins for Alzheimer's Research Trust)

And, if you can believe it, MUCH MUCH more!!! For details, check out the Facebook page:
https://www.facebook.com/McCormickcountyrotary

Amazing commitment to service and your community--- congratulations!!!
Oct. 2021 - Feb. 2022
October 2021
McCormick Satellite Club hosts its First Discovery Rotary meeting presented by
our E-Club President Lenna Young
Linda and Tom Williford recognized for their Paul Harris achievement.
June 2021 Fundraiser - Ongoing
Proceeds will benefit local community needs. This fundraising will be available at the District 7750 All Club Conference, look for the E-club of the Carolinas table. If you like to order a bandana for your pet, dogs or cats, please contact us via FB.
May 2021 - 'Trunks of Gold' Fundraiser Event
The Town of McCormick hosted a 'Trunks of Gold' sales event on May 8th. Parking spaces were occupied by local residents who opened their trunks for a community yard sale. The Rotary Satellite Club of McCormick members Anne Barron, Sandy Gresham, Tom Williford, Karen Hoyt and Linda Williford participated, proceeds would support local community projects.
It was a beautiful day for fellowship and promote Rotary.
February 2021 - Rotary Reads the Classics
Channel link
https://www.youtube.com/channel/UC_JAuLzKCITZk8q8_P6Vvbw
January 2021 - Service Project
The Satellite club of McCormick is taking donations for the Food Pantry. An ongoing project to help the community in need.
.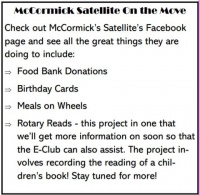 November 2020 "Veterans' Day" Service Project
The E-Club of the Carolinas along with the Satellite of McCormick sent over 200 Thank you Cards to a Veteran Center in Anderson, SC
October 2020 - All E-Club hybrid meeting (in person/online via zoom)
Members of the E-Club and McCormick met at Lakeview - Hickory Knob State Park for a day of fellowship and training. We thank DG Beth Padget for participating and presenting the Platinum Rotary International Presidential Citation.
Feb 2020 Rotary International's Birthday
The E-Club met in person Feb. 8th for training, fellowship and to Celebrate Rotary International's Birthday, the actually birthday is on Feb.23rd !
Great meeting at Hickory Knob State Park.