All Club Conference District 7750 - June 25-27, 2021

It was great to reconnect with many rotarians this past weekend.
Our Club table was dispalying our 2020-21 service projects, new Club Flag, Banner and Brochure plus two fundraisings:
The McCormick Satellite Club members had for sale some cute pets bandanas, the E-Club had a raffle for two bottles of wine, the winner was Rachel Strayer with the Emerald City Club.


The E-Club was also recognized by the District for the live streaming sessions via zoom and for achieving the Governor's Gold Club of Excellence Award!
Congratulations President Mike Reid!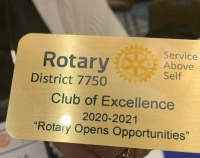 Congratulations to Lenna Young, President Elect 2020-21, for being nominated
by our E-club " Rotarian of the Year!